IT'S BEGINNING TO LOOK ALOT LIKE CHRISTMAS… Dit jaar ben ik echt vrolijker dan ooit voor deze periode van het jaar. Normaal gesproken heb ik namelijk behoorlijk last van de kou, waardoor ik 's winters snel moe ben, weinig energie heb en liever de hele dag onder een kleedje kruip.
Ik weet niet of het komt doordat ik vorig jaar niet echt winter heb gehad, doordat ik eindelijk balans in mijn leven heb gevonden of doordat ik gewoon van alles mag doen waar ik happy van word. Maargoed, soms moet je niet te veel aan het 'waarom' denken, maar gewoon genieten, dus dat doe ik voor de volle 100%!
Aangezien jij als lezer van mijn blog ook voor deze winterse happinesss zorgt, vind ik dat ik wel wat terug mag doen. Ik heb daarom een GIVEAWAY geregeld met mijn favoriete kruiden, namelijk de Green Gipsy Spices!
AMBASSADEUR
Sinds afgelopen zomer ben ik ambassadeur van Green Gipsy. Dit betekent dat ik de kruiden ontvang om er vervolgens lekkere recepten mee te maken en deze met jullie te delen. In deze blog zal ik dan ook één van mijn favoriete winterse recepten delen & je blij maken met, rampampampam…, een leuke GIVEAWAY!
WINTERSE AMERICAN COOKIES MET PUMPKIN SPICES
Let op: dit is geen 'healthy' recept, maar een recept voor tussen je guilty pleasures (die verdien je tenslotte ook af en toe!). Mocht je mijn 10 guilty pleasures tijdens de wintermaanden willen weten, bekijk dan snel deze blog!
Ingrediënten: 
1 ei
100 ml vloeibare boter
20 gram lichtbruine basterdsuiker
125 gram bloem
20 gram havermout
5 dadels
2 gedroogde vijgen
1 theelepel bakpoeder
2 flinke theelepels pumpkin spice van Green Gipsy
3 blokjes witte chocolade (puur of melk kan natuurlijk ook)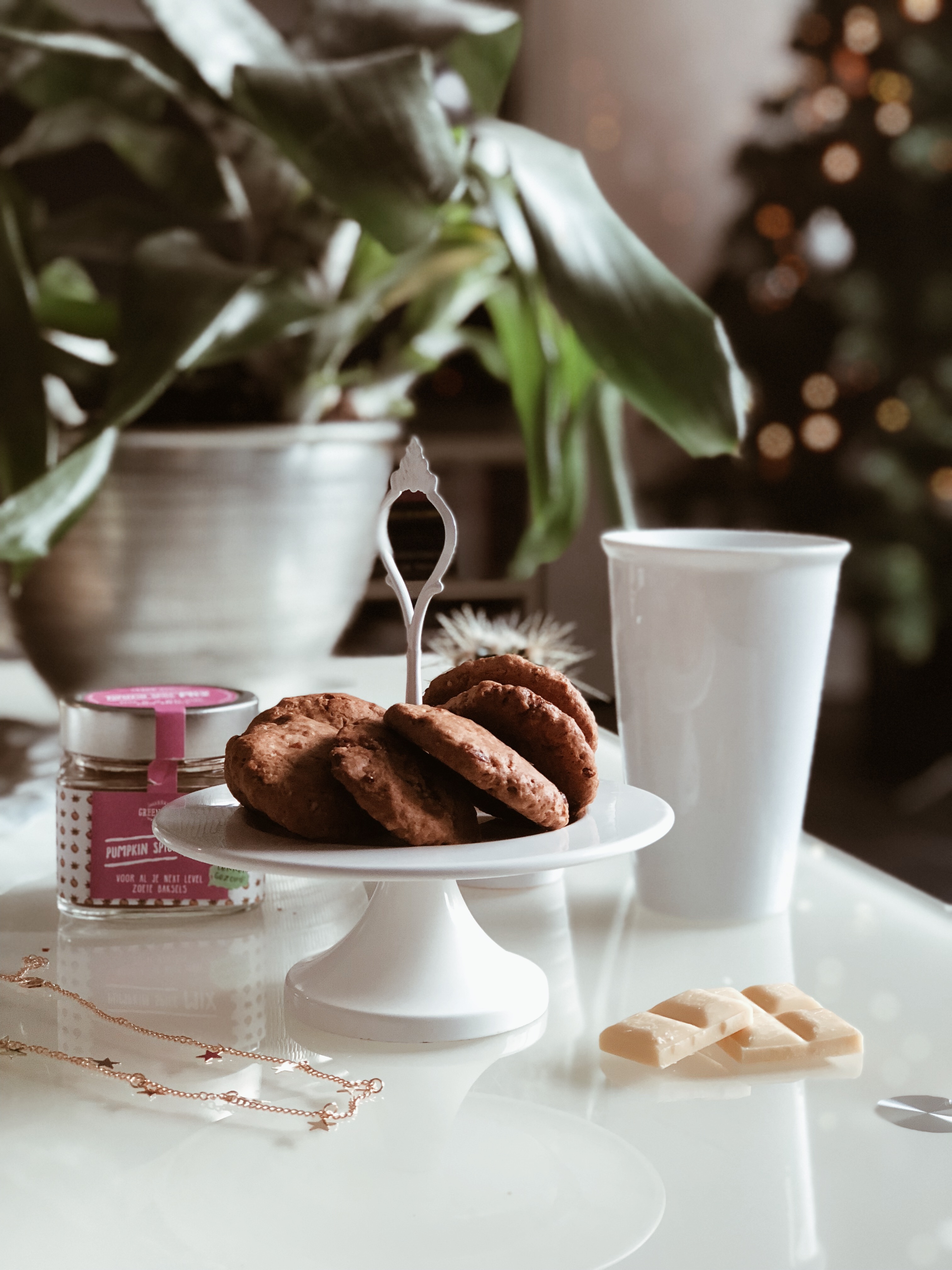 Bereidingswijze:
Verwarm de oven voor op 180 graden Celsius. Klop het ei en de boter kort luchtig in een kom. Voeg hier vervolgens de suiker, bloem, havermout, bakpoeder en pumpkin spices aan toe. Meng dit goed door elkaar.
Snijd de dadels en vijgen fijn en hak de chocolade in stukjes. Roer deze tot slot door het beslag heen.
Leg een vel bakpapier op een bakplaat en maak balletjes van het beslag. Leg deze op de bakplaat en druk ze plat tot koekjes. Bak de koekjes tot slot voor 20 minuten af.
Na deze 20 minuten is het belangrijk om de koekjes goed af te laten koelen. Tijdens het afkoelen worden ze namelijk knapperig!
GIVEAWAY
Met dit recept voor je neus, wil je natuurlijk gelijk aan de slag, en dat begrijp ik maar al te goed. De kans is groot dat je het grootste gedeelte van de ingrediënten in huis hebt, maar dat de kruiden van Green Gipsy nog ontbreken.
Gelukkig had ik dat al voorzien en heb ik geregeld dat ik twee potjes weg mag geven in, jawel, de vorm van een kerstcadeautje! Het gaat hierbij om één Pumpkin Spice en één Ras El Hanout. Heerlijke kruiden om in huis te hebben voor de feestdagen al zeg ik het zelf!
Oke, even kort en duidelijk de uitleg van de giveaway..
Wat: laat onder deze blog weten waarvoor jij deze kruiden graag in huis zou willen hebben (als cadeautje voor iemand? Voor één van je favoriete recepten?) & volg mij op Instagram.
Wanneer: tot 19 december 18:00 uur.
Prijs: 2 potjes kruiden van Green Gipsy ingepakt als kerstcadeautje (je ontvangt het nog voor de feestdagen, zodat je er direct lekker gebruik van kunt maken!)
Bekendmaking: dinsdagavond maak ik via Instastory de winnaar bekend.
Ik ben benieuwd naar jouw leuke of speciale reden in de reactie's hieronder! Voor nu een hele fijne week en we spreken elkaar snel weer!
Liefs,
Estrella